Visitors to New York's Museum Mile may like to take a wander through the newly designed third floor of the Jewish Museum at 1109 Fifth Avenue. Following its recent Modigliani exhibit and its Pierre Chareau exhibition, last year, that was orchestrated by Diller + Scofidio, the choice of starchitect was key to decoding the presentation of their somewhat weighty permanent collection.
Enter Calvin Tsao, of Tsao & McKown, who opened up the space establishing a visual link to Central Park and Stagmeister & Walsh who did the rebranding. Entitled "Scenes From the Collection" there is no attempt to overwhelm. Instead the collection has been curated minimally, with a "less is more" rotating philosophy, so as to remain fresh, fanciful, interactive, and critically, more Instagrammable.
Stylistic tribute has been made to international galleries abroad. As in the Tate Modern and Musee d'Orsay, the beauty of the original building, in this case the 1908 built home of Felix M. Warburg, is celebrated with its period charm restored. The mix of old and new is paramount not just in the architecture but in the collection itself, which  has been divided into seven galleries.
The first, "Accumulations"  provides a welcome interactive element with stereoscopes enabling 3D type views of last century Israel depicted in hand-drawn postcard sized twin images. Mostly traditional ceremonial objects are displayed in "Taxonomies", while images and objects referencing the Holocaust are shown in  "Masterpieces and Curiosities". A more modern take on  "Personas" shows the work of Man Ray and Cindy Sherman, with exploration of the Star of David and its symbolism explored through the art of contemporary artists in "Signs and Symbols".  With a viewing station "Television and Beyond" attempts to catch visitors up to the present whilst examining the portrayal and impact of Jews in the media.
Yet it is in the "Constellations" gallery that the real dialogue between modern art and heritage takes it rightful place.  Tradition and loss, have so far been presented. Continuity and the precarious balance of living with heritage is what is examined here. Mel Bochner's The Joys of Yiddish, (above) is a true gem, contrasting bizarrely with Camille Pissarro's Portail L'Eglise Saint-Jacques à Dieppe.
Arlene Shechet's emotionally packed Travel Light, (seen above with Eva Hesse's Untitled) is a restrained gypsum and resin reference to the generational value of familial objects interlinked with identity, escape and continuity.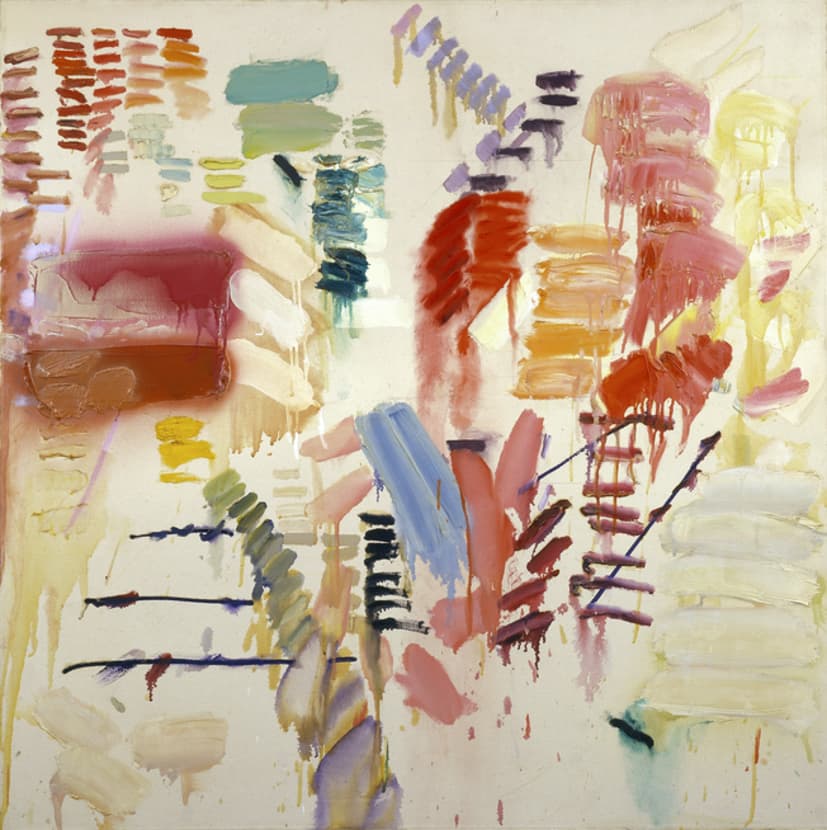 Framing this travel bag are displays of 60s feminism with painting by Joan Snyder (Hard Sweetness, above) and Eva Hesse as well as the more recent "Seder" by Nicole Eisenman.

Hannah Wilke's series Venus Pareve (above), is presented alongside the subtle relief of the Star of David in the rainbow colors of  Ross Bleckner's expressed duality in his "Double Portrait (Gay Flag)" (below).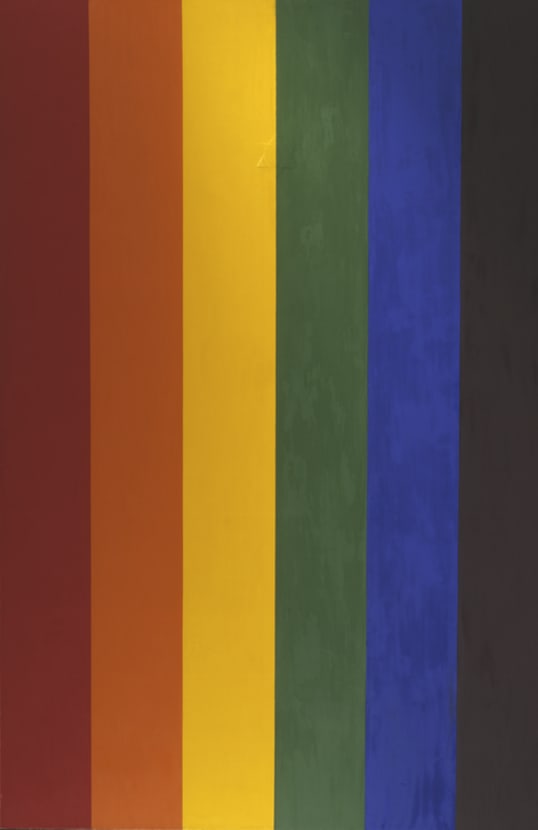 Standing proudly in its vivid lure, the ornate quality and frame of Alios Itzhak (above) by Kehinde Wiley from his World Stage:Israel exhibition at the Jewish Museum, 2012, mimics the intricate dark woodwork of the adjacent 19th century ark from Sioux City, Iowa. Both share the iconography of carved ten commandments, centrally placed at their top and both challenge ideas of memory and continuity. Wiley's work goes further in portraying a proud, deliberate, noble element, typical to his work, yet it is the deliberate homoerotic element that is glossed over here, as is the subject of the integration and acceptance of Ethiopian Jews in modern Israeli society. The Jewish Museum could do well applying the same level of admirable critique to its curated content as it has done to its newly renovated galleries.
Still slightly disparate with unusual but exciting juxtapositions "Scenes From a Collection"  has promised a 6 month cycle which will undoubtedly keep the galleries and our appetite fresh as well as allowing for further curatorial experimentation. That is to be applauded.