By Sarah Balcombe
A visitor to the David Hockney at New York City's Met in Central Park, would be forgiven for breezing past Hockney's early works and making a bee-line for the seductive pinks, aquas and yellows of his more familiar California pool paintings, as in A Bigger Splash, 1967 (below).
When presented with these images of sun-drenched California it is easy to forget Hockney's British roots. Yet his early paintings (below) tell a narrative of homophobic Britain before the Sexual Offences Act in 1967 ironically alluding to taboo practices deemed imprisonable offences at that time.
Referencing  Andy Warhol's celebration of everyday objects, in Cleaning Teeth, Early Evening (10pm) W11, 1962  (above right) these experiments in Abstract Expressionism are important references of a not-so disguised pre-Stonewall era.  Hockney's Shame, 1960 (above left) depicts his post Royal College of Arts period, displaying Francis Bacon- influenced contorted raw angst.
Not so in his more confident Domestic Scene, Los Angeles, 1963 (below left)
  and Man In Shower In Beverly Hills, 1964 (above right).
Gone is the angst, replaced by a perceived nirvana of tolerance and thriving, located in his anticipated homeland of Los Angeles, where scenes of male domesticity and casual intimacy were more acceptable. These paintings also depict the technical development of Hockney's portrayal of water and splashes, a theme to which he later returns and refines.
However it is the unbridled optimism that triumphs and floods the remainder of this exhibition.  Even though the subjects of these initial paintings were conjured up from magazines prior to Hockney's move to the US,  the paintings begin to be informed by the seductive pinks, aquas and yellows of his subsequent Los Angeles relocation.
And what a celebration he conveyed upon his arrival in LA in 1964. With explosions of color augmenting the modernist Neutra-like villas of art collectors and acquaintances, we have a glimpse of 1960s and 70s LA through Hockney's exuberant lens.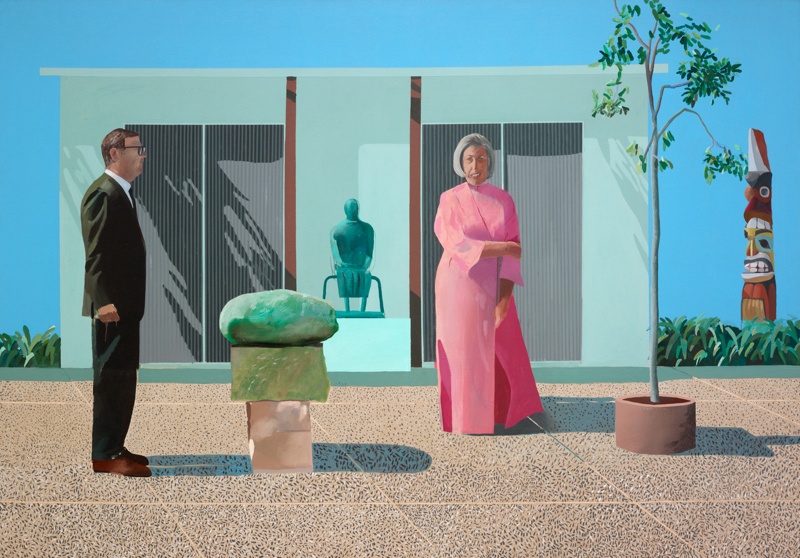 American Collectors (Fred and Marcia Weisman), 1968, above.
California Art Collector, 1964, below left.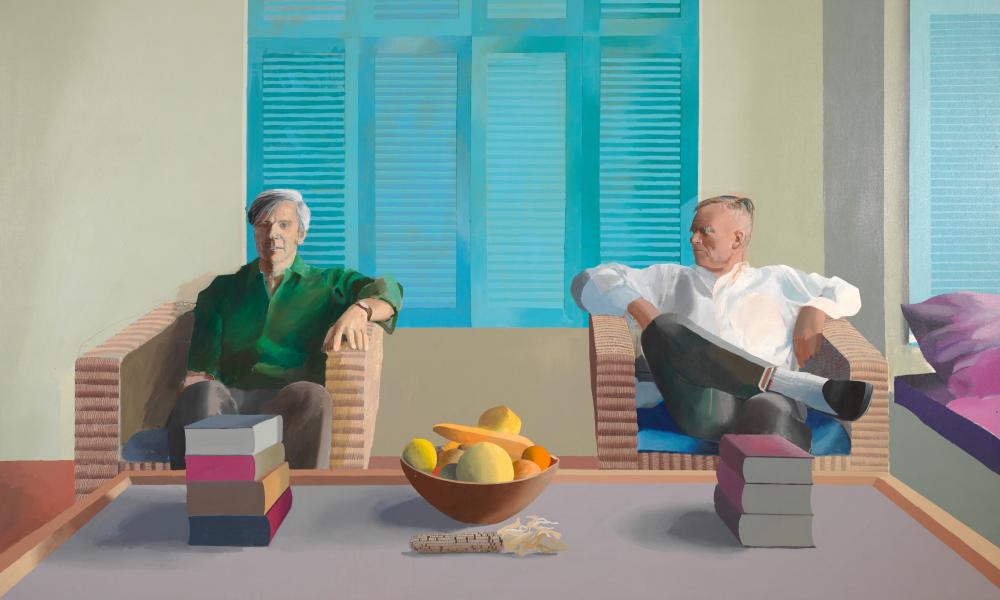 As we peered through The Graduate's distorted pool in 1967, so we gaze as voyeurs into Hockney's exquisite pools and seductive villas. Impeccably dressed characters suggest prescribed roles, some as art collectors (see above) others as fashion designers and friends in Mr and Mrs Clark and Percy, 1971 (below left) and the remainder as more-than friends, as in  Christopher Isherwood and Don Bachardy, 1968 (above right).
Repetitive iconography of objets, such as the telephone, strategically placed flowers, fruit, hands, crossed knees, books, and distance between couples, portray domestic relationships, whilst inviting us into Hockney's social circle and his world beyond the frame. His working studies of his subject are even more poignant in their intimacy. With the abandonment of every formal compositional element, as in his crayon sketch of Ossie Wearing a Fairisle Sweater, 1970 (above, right) a familiarity is suggested.
It is in this phase of portraiture that Hockney's work revels in freedom and the anticipation of possibility whilst geometry and modernism provide a welcome element of composition and technical exactitude, see below, Portrait of an Artist (Pool with Two Figures), 1972.
Modernism as an influence is seen in linear delights such as Medical Building, 1966 (below left) and Savings and Loan Building, 1967 (below right) whilst surrealism is suggested in Hockney's Rubber Ring Floating in a Swimming Pool, 1971 (beneath left).
All this changes in the latter part of the exhibition when the 80s decade heralds color  infused with a more psychedelic Fauvism as in Outpost Drive, Hollywood, 1980 (above right). As a visitor stated "This is where Hockney turns into Matisse." Whilst Matisse was undoubtedly an influence there is no doubt that these rooms are still Hockney. Continuing with his beautifully composed domestic scenes, adding a cubist reference, Hockney also explores landscape with ferocity, possibly as a reaction to his gradual deafness, and his claims that his perception of colors intensified in their vividness.
                                          Large Interior, Los Angeles 1988
Whilst terraces and pergolas interact with the landscapes, enticing the viewer with a differing perspective, the landscapes have become his refuge. Flitting between Hollywood Hills and Yorkshire visits, they excite and inspire. Yet it is his Breakfast at Malibu, Sunday, 1989 (below) that offers perhaps the most compelling combination of heritage. Informed by his humble Bradford beginnings, the traditional teapot and cups assume a Zen-like transcendental quality against the backdrop of the all-encompassing blue Malibu waves, a perfect cross-Atlantic blend of meditative anticipation.
The visitor continues to be guided through freer, more abstract treats of the 1990s and 2000s, culminating in a dazzling I-pad display of Hockney's embrace of technology.
Go, enjoy and be comforted by the fleeting angst, rigor, beauty and thoroughness of his art that is gradually reducing, like a good sauce, to a Picasso-esque squiggle of a solitary line of color.